Colorado Rivers Shown on the Map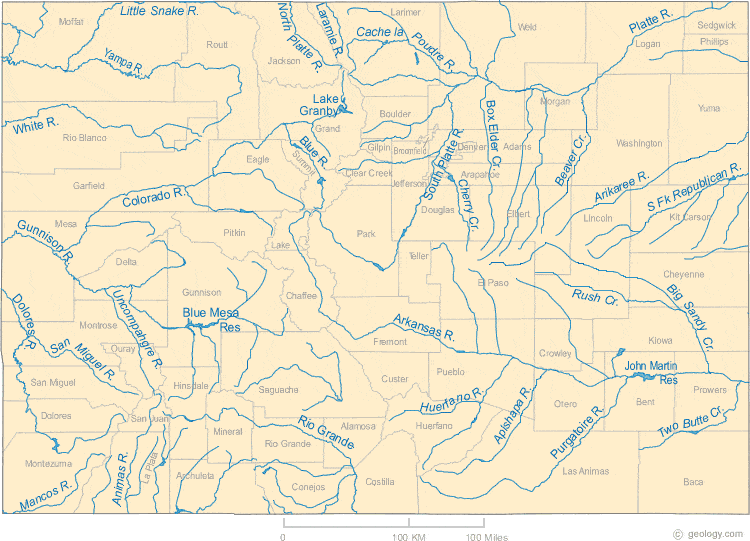 Uranium is a known cause of cancers, organ damage, miscarriages & birth defects.
Drilling for the radioactive material has been found to contaminate underground aquifers that drain into the Colorado River, and sacred springs that have sustained Indigenous Peoples in the region. In addition, surface water can flow into drill holes and mine shafts which can also poison underground water sources.
Emerging in the Rocky Mountains in North Central Colorado and winding 1,450 miles to the Gulf of California, the Colorado River is held sacred by more than 34 Indigenous Nations. The Colorado also provides drinking water for up to 27 million people in seven states throughout the Southwest.
The river that carves the Grand Canyon has been extensively used by the agricultural industry and cities that are dependent for drinking water, so much so that it now ceases to flow to the Gulf of California, forcing members of the Cocopah Nation (The People of the River) in Northern Mexico to abandon their homelands and relocate elsewhere.
Today there are more than 2,000 abandoned uranium mines in the Southwest. U.S. government agencies have done little or nothing to clean up contaminated sites and abandoned mines. At Rare Metals near Tuba City on the Diné (Navajo) Nation a layer of soil and rock is the only covering over 2.3 million tons of hazardous waste. A rock dam surrounds the radioactive waste to control runoff water that flows into nearby Moenkopi Wash. Throughout the Diné Nation, Diné families have been subject to decades of radioactive contamination ranging from unsafe mining conditions to living in houses built from uranium tailings. Well water is documented by the US Environmental Protection Agency (EPA) as undrinkable in at least 22 communities such as Black Falls on the Dine' Nation. According to the EPA, "Approximately 30 percent of the Navajo population does not have access to a public drinking water system and may be using unregulated water sources with uranium contamination."
Flocks of sheep and other livestock still graze among radioactive tailing piles and ingest radioactive water.





According to the Navajo Nation up to 2.5 million gallons of uranium contaminated water is leaching out of the Shiprock Uranium Mill near Shiprock, New Mexico into the San Juan River every year. At the Church Rock Mine in New Mexico, which is now attempting to re-open, up to 875,000 cubic yards of radioactive waste continue to contaminate the land.

In July 1979, a dirt dam breached on the Navajo Nation at a uranium processing plant released more than 1,100 tons of radioactive waste and nearly 100 million gallons of contaminated fluid into the Rio Puerco (which ultimately flows into the Colorado River) near Church Rock, NM. This was the single largest nuclear accident in US history. Thousands of Diné families that live in the region, including those forced to relocate from the Joint Use Area due to coal mining, continue to suffer health impacts resulting from the spill.

In 2005 the Diné Nation government banned uranium mining and processing within its borders due to uranium's harmful legacy of severe health impacts and poisoning of the environment. And yet, high cancer rates, birth defects and other health impacts still bear out the uranium industry's dangerous legacy.
Read more: